Colombia Nariño EA Decaf de Caña (Medium Roast)
Regular price
Sale price
$19.00 USD
Unit price
per
Sale
Sold out
You asked, we listened.  Introducing our first Decaf coffee!  All the delicious taste, but shouldn't keep you up at night!

This coffee works well with any method: pourover, drip, french press, & espresso!

We taste Cherry, Toffee, & Chocolate
Colombia Nariño
Various Smallholder Farms
Process: EA Decaf de Caña
roast level: Medium
Flavor Notes: Cherry, Toffee & Chocolate
MASL:1200-2100
Importer: Cafe Imports
Notes on the Green Coffee production and selection, From the Importer Website (Cafe Imports):
This Colombian E.A. (ethyl acetate) decaf offering is special in more ways than one: First, it was cupped specifically for its quality and sourced by single-origin, in this case by region, from various smalholder farms. We call them Decaf De Caña because they're custom decaffeinated in Colombia, using a special, natural process that utilizes a solvent of ethyl acetate, which can be derived from fermented sugar. Cafe Imports staff has personally visited the decaffeination plant several times, and we are impressed by the process as well as the quality in the cup!
The process works by soaking green coffee in a solution of E.A., which bonds to the salts of chlorogenic acid in the coffee and allows for the removal of caffeine. The coffee is removed from the solvent and steamed at low pressure to remove the E.A. compounds, and the finished product retains its flavor integrity but contains almost no caffeine at all. (The beans will contain a maximum of 0.01–0.03% caffeine.)
Shipping & Returns

We roast in small batches twice a week, on Sundays and Wednesdays, so your coffee is always fresh.  If there is a lag between your order date and shipping date that is due to needing to wait until the next roast date to fulfill your order.

We offer flat rate $5 standard shipping in the continental US for one 12 oz bag, $7.50 for two 12oz bags, and free shipping for orders over $48.  Standard shipping should arrive 3-4 days after shipping. 

We currently do not ship internationally, but may add that in the future.  We will post that here when available.

For expedited shipping we charge the cost of the shipping, which will be available at checkout.

Coffee is a perishable prioduct, and we roast to order, so we do not offer returns or exchange. If, however, your coffee arrives damaged or you receive the wrong order, please contact us as soon as possible so that we can make it right! info@appliedartscoffee.com
Care Instructions

We roast twice a week, and recommend you order less coffee more frequently to enjoy always fresh coffee. We do offer grinding your order, but we recommend that you order whole bean and grind within 15 minutes of brewing for optimum freshness, if possible.
Share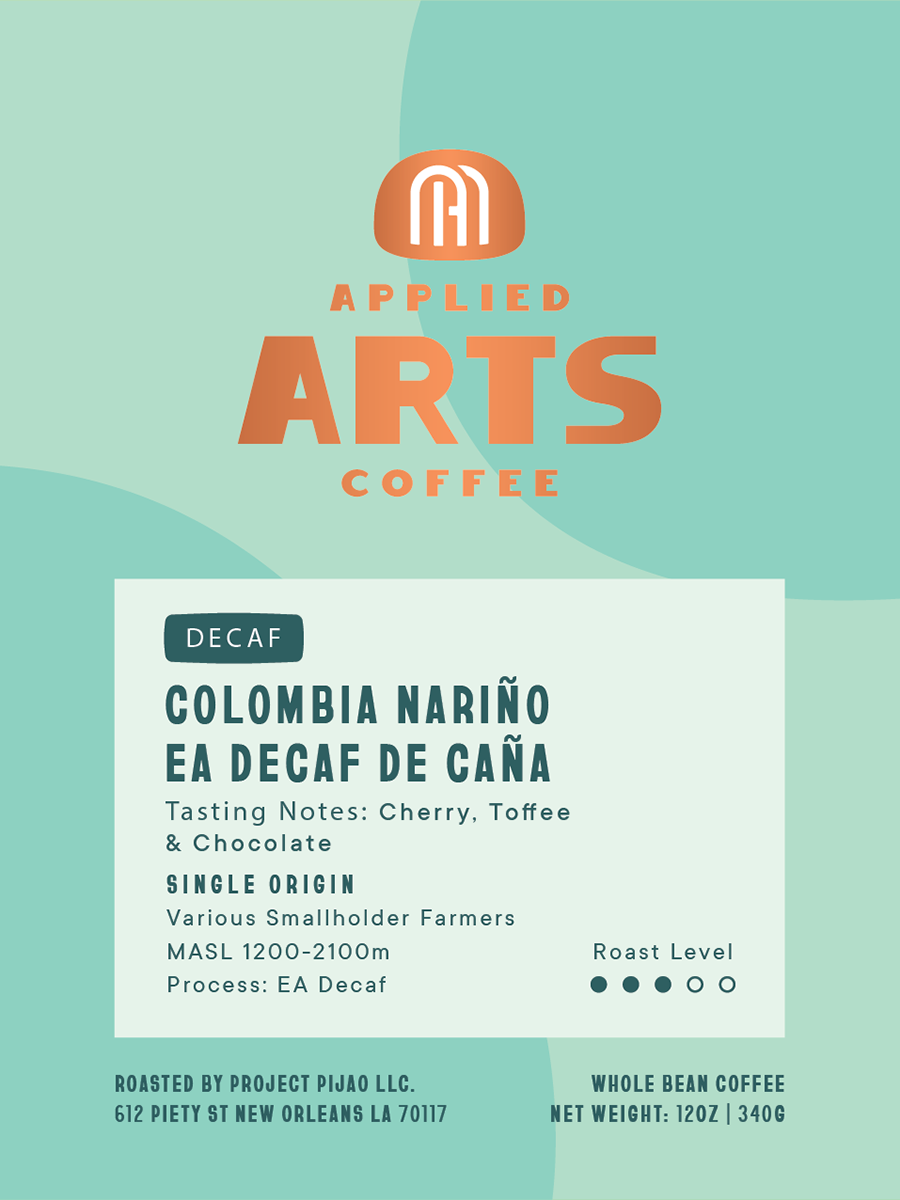 You can't tell it's DECAF!!!
This is by far the BEST Decaf coffee we have ever tasted!! My husband switched to decaf, for health reasons, and we have spent the past 4 YEARS looking for a good cup of coffee. We thought we had to settle, and then we found you!!!!! My husband has NEVER asked for a specific brand of coffee, until he tried Applied Arts Colombia Nariño EA Decaf de Caña. This is a solid, smooth, and flavorful medium roast coffee with hints of chocolate & cherries, and low acidity. We immediately signed up for monthly deliveries (easy, convenient, fast shipping & Loyalty Rewards have already paid off!!!) He tells everyone about this coffee, and still can't believe it's Decaf!! Thank you :-)
Excellent decaf
For health reasons I have switched to Decaf but I still love a great cup of coffee in the morning. Colombia Nariño EA Decaf de Caña (Medium Roast) fulfills this need for a low acid full bodied cup of coffee in the morning. The aroma is wonderful also.
Delicious decaf!
We've tried several of Applied Arts coffees and find them all excellent. Currently drinking half-caf coffee, mixing this one with Crosshatch.
Divine flavor
Applied Arts coffee is why. They're top tier is flavor and consistency. I have tried most of their blends and love them all. At this point I mainly drink decaf, and I must say that their decaf is hands down the best I've had! There is zero sacrifice of flavor profile as far as I'm concerned. This is it for me, and I tell all my friends they need Applied Arts coffee in their life!
Warms the soul
This decaf coffee is wonderful. I switched to decaf about 4 years ago to help curb my anxiety. I've tried several brands and this one is my new favorite. Rich and flavorful with sweet notes of cherry, chocolate and toffee. I add frothed oat milk and a pinch of honey for a creamy smooth finish. 5 stars to Applied Arts Coffee for bringing us quality coffee which is responsibly sourced. Nothing better than a morning cup that warms the soul!
Free Shipping over $48

We offer flat-rate standard shipping for $5 for one 12-oz bag, and $7.50 for two. Spend $48 or more, and shipping is free!

Expedited shipping available at cost.

Subscribe and save 10%!

Simply click 'subscribe and save 10% when ordering, and you will be set up to receive this coffee at the frequency and amount you select. Subscriptions can be changed/paused or cancelled at any time, using the manage subscriptions button.