Ethiopia Sidama Basha Bekele (Light Roast)
Regular price
Sale price
$22.00 USD
Unit price
per
Sale
Sold out
We love this Ethiopian Single Origin coffee.  Bursting with fruit, and lightly roasted to bring out the berry flavors without making them taste too jammy.  The natural processing of this bean helps to maintain a fuller body for a light roast, which ends up sweet while showcasing bright, juicy qualities and delicate floral notes.  
This coffee works best brewed as a pour over or drip.
We taste Strawberry, Vanilla Nougat, and Honeysuckle
Ethiopia Sidama
Basha Bekele Farm
Process: Natural
roast level: Light
Flavor Notes: Strawberry, Vanilla Nougat, Honeysuckle
MASL: 2231
Importer: Catalyst Trade
Notes on the producer from our importer for this coffee, Catalyst Trade:
Asnake Bekele is single- handedly responsible for us all having the privilege of drinking (importing, roasting, serving) quality natural-processed Sidama coffee! Many years ago, when Asnake worked as the manager of the prominent Sidama Coffee Farmer's Cooperative Union, he presented the idea to the producers to add raised-bed natural processing to their washed processed coffee. At the time, he was laughed at! But luckily for us all, he persevered, and of course now we all know the glory of natural-processed Sidama coffee.
Basha Bekele is part of the producing group Asnake and his partner Aklilu Admassu has vertically integrated with. He's focused on quality and on advancing the future of traceable, single-producer Ethiopian coffee.
Asnake shares that on Basha's farm, "Red Cherries are harvested by hand-picking. This is very labor intensive, and around 86 seasonal and daily laborers are employed for selective harvesting, transporting, sorting and drying. Pickers many a time have to return to the same tree multiple times as coffee cherry doesn't ripen all at the same time. Carefully harvested cherries are then are loaded into bags or baskets and taken to the drying location. The cherries are spread out in thin layers to dry in the sun. Only special raised drying beds or tables, which are made out of wood posts, are used and covered in bamboo mat. In order to ensure even drying and to avoid mold, fermentation or rotting, the cherries are turned 6 times per day. It could take 15 – 21 days for specific lots to reach optimum moisture content depending on the sun access and temperature. This is determined by observing brightness of the skin and cracking sample dried cherries by teeth. When the drying is complete, the dried cherries are loaded into poly bags and stored in temporary warehouse. It will then ultimately transported to the dry mill and warehouse located at Daye town." At that point the dried cherry is removed and a phase of pre-cleaning is done by hand before the coffee is loaded into bags for transportation to Addis Ababa for further export preparation at the final dry mill.
Shipping & Returns

We roast in small batches twice a week, on Sundays and Wednesdays, so your coffee is always fresh.  If there is a lag between your order date and shipping date that is due to needing to wait until the next roast date to fulfill your order.

We offer flat rate $5 standard shipping in the continental US for one 12 oz bag, $7.50 for two 12oz bags, and free shipping for orders over $48.  Standard shipping should arrive 3-4 days after shipping. 

We currently do not ship internationally, but may add that in the future.  We will post that here when available.

For expedited shipping we charge the cost of the shipping, which will be available at checkout.

Coffee is a perishable prioduct, and we roast to order, so we do not offer returns or exchange. If, however, your coffee arrives damaged or you receive the wrong order, please contact us as soon as possible so that we can make it right! info@appliedartscoffee.com
Care Instructions

We roast twice a week, and recommend you order less coffee more frequently to enjoy always fresh coffee. We do offer grinding your order, but we recommend that you order whole bean and grind within 15 minutes of brewing for optimum freshness, if possible.
Share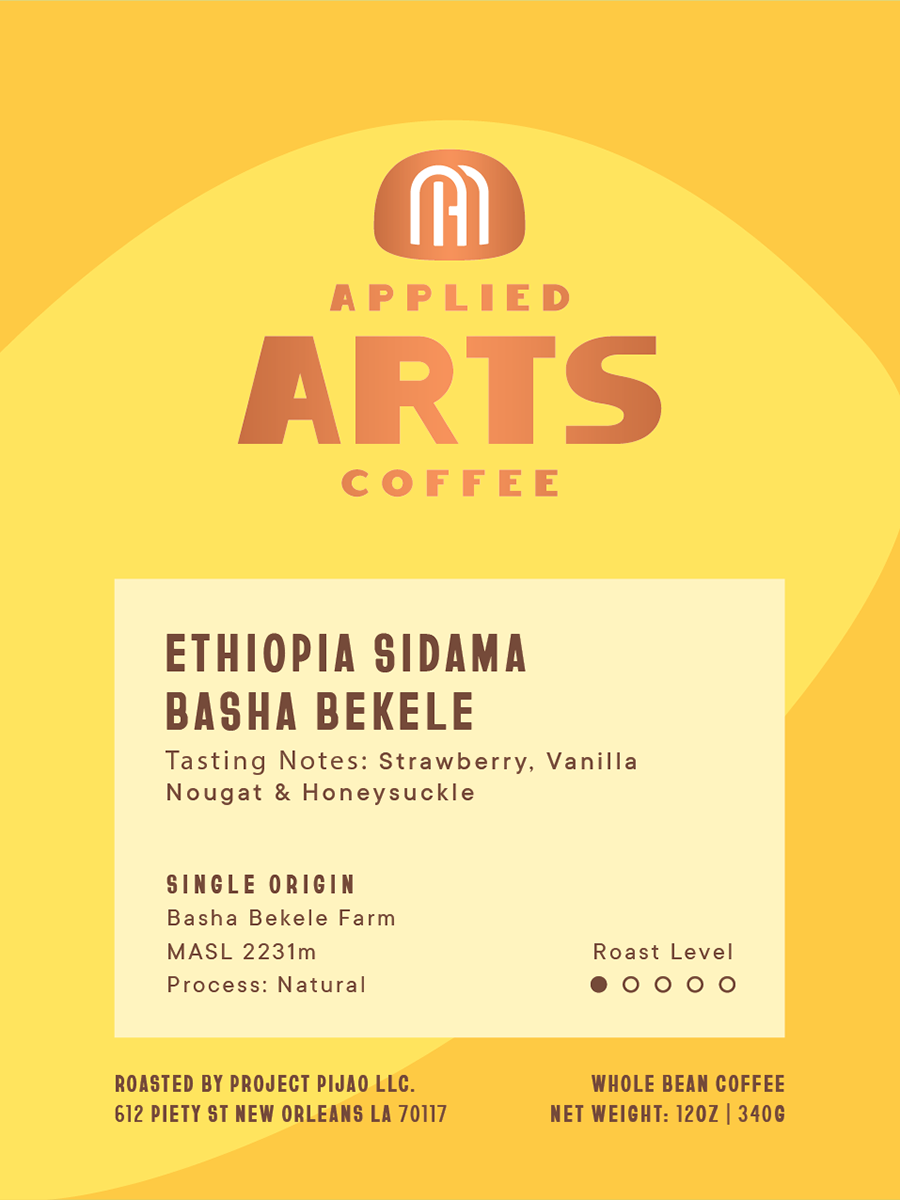 Game changer!
After years of being a dark coffee lover, this Ethiopian coffee has completely changed my opinion on lighter roasted coffee. The Basha Bekele has fast become the favorite coffee in my house. We're always looking forward to the next shipment arriving!
One of my favorite beans!
Both the Ethiopian coffees are amazing - this one I find a smoother with less distinctive tastes but still one of the most enjoyable coffees I have had recently. I love them both!
Very tasty
I enjoyed brewing this on the V60.
Damn Fine Cup of Coffee ! ☕️🥧
Ethiopia Sidama is my " aha experience! " with coffee. Similar to when you have that amazing glass of wine - it's makes you stop and take it all the deliciousness !
My go was darker roasts, but these light roast options are wonderful .
Don't miss out !
Hands down my favorite coffee
Not much else to say. I can't live without it.
Free Shipping over $48

We offer flat-rate standard shipping for $5 for one 12-oz bag, and $7.50 for two. Spend $48 or more, and shipping is free!

Expedited shipping available at cost.

Subscribe and save 10%!

Simply click 'subscribe and save 10% when ordering, and you will be set up to receive this coffee at the frequency and amount you select. Subscriptions can be changed/paused or cancelled at any time, using the manage subscriptions button.