Indonesia East Java Argopuro (Medium-Light Roast)
Regular price
Sale price
$21.00 USD
Unit price
per
Sale
Sold out
Introducing our first hydro honey processed coffee!  This medium-light roast of this specially processed Indonesian coffee is delicious, and wild!  The hydro-honey process adds a bit of fermented 'funky' characteristics to the flavor profile of this coffee -- and we love it!  
This coffee works best brewed as a pour over or drip.
With a pretty full body for a medium-light roast, we taste Oaked Red Wine & Funky Plum.
Indonesia East Java, Argopuro
Walida Cooperative
Process: Hydro-Honey
roast level: Medium-LIghtLight
Flavor Notes: Oaked Red Wine & Funky Plum
MASL: 1200-1600
Importer: Sustainable Harvest
Notes on the producer from our importer for this coffee, Sustainable Harvest:
The Tlogosari Village, where the coffee beans are grown, has a social non-profit cooperative set up by the villagers for the community's well-being. The cooperative is called "Walida Cooperative," led by Ahmad Muhlisin in collaboration with Belift Green Beans. 20% of the profit from the coffee sales goes directly to the social non-profit cooperative, which runs a local K-12 school that educates the villagers. A small percentage goes to the government in exchange for letting the villagers grow coffee there.

After finishing his studies at the university, Ahmad became more concerned about the education level in his region, so he made efforts to educate the local villagers for free because many of the villagers were not prioritizing education. Many of them opted to quit school after elementary school to settle and work as farmers; others were getting married very early, at ages 14-16, not aware of more opportunities. So he decided to come up with a solution to bring more value-add to his village.
Ahmad's coffee is grown at around 1,200 - 1,600 m.a.s.l in the footsteps of Mount Argopuro, in Situbondo Regency, East Java Province of Java Island. He focuses on natural-processed coffee because the water supply is scarce in his area, and the government has not been active in helping build irrigation/water supply systems there. The harvest season begins around early May and ends around late July. The coffee varieties grown include Lini S795 and Kartika.
This particular coffee is sun-dried on raised beds after being cleaned and sorted by flotation. After being dried, the cherries are rehydrated, depulped, and then the beans are sun-dried again raised beds. Once the coffee is well dried, it is hulled and sorted by density before being packed and exported!
Shipping & Returns

We roast in small batches twice a week, on Sundays and Wednesdays, so your coffee is always fresh.  If there is a lag between your order date and shipping date that is due to needing to wait until the next roast date to fulfill your order.

We offer flat rate $5 standard shipping in the continental US for one 12 oz bag, $7.50 for two 12oz bags, and free shipping for orders over $48.  Standard shipping should arrive 3-4 days after shipping. 

We currently do not ship internationally, but may add that in the future.  We will post that here when available.

For expedited shipping we charge the cost of the shipping, which will be available at checkout.

Coffee is a perishable prioduct, and we roast to order, so we do not offer returns or exchange. If, however, your coffee arrives damaged or you receive the wrong order, please contact us as soon as possible so that we can make it right! info@appliedartscoffee.com
Care Instructions

We roast twice a week, and recommend you order less coffee more frequently to enjoy always fresh coffee. We do offer grinding your order, but we recommend that you order whole bean and grind within 15 minutes of brewing for optimum freshness, if possible.
Share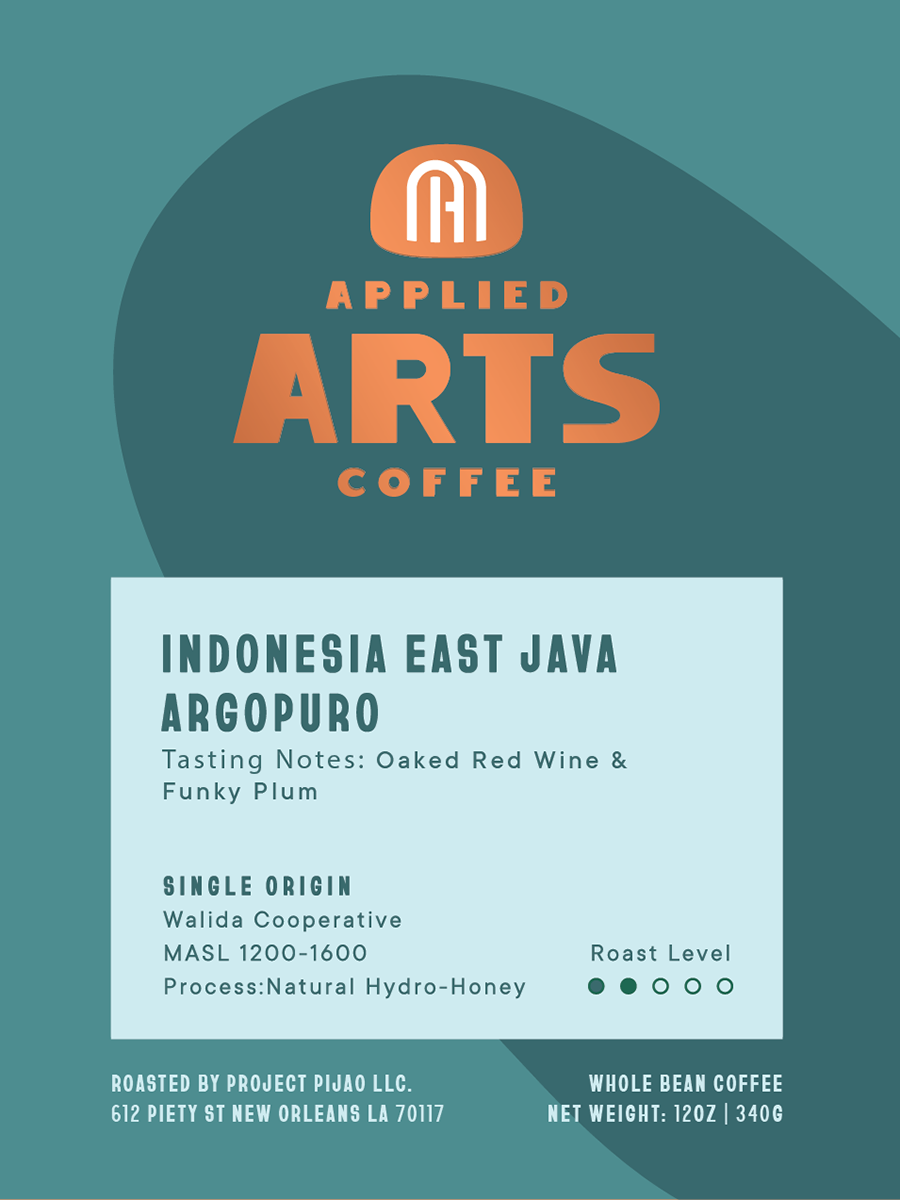 A walk in the Rainforest
This coffee makes me feel like I'm on vacation. It reminds me of what we would drink before we would go for a walk in the rainforest. It has its earthy taste, rich, but not overpowering in the least. It's robust but not heavy. I'll certainly buy it again, and again…and again. Solid work, AA! I use a Moccamaster to brew this taste of heaven, and it's the best part of my morning.
Free Shipping over $48

We offer flat-rate standard shipping for $5 for one 12-oz bag, and $7.50 for two. Spend $48 or more, and shipping is free!

Expedited shipping available at cost.

Subscribe and save 10%!

Simply click 'subscribe and save 10% when ordering, and you will be set up to receive this coffee at the frequency and amount you select. Subscriptions can be changed/paused or cancelled at any time, using the manage subscriptions button.